Kenyans Are Perplexed to See Roadblocks on Entry Points to the State House
Kenyans Are Perplexed to See Roadblocks on Entry Points to the State House. State House in Kenya refers to the official residence and office of the President of the Republic of Kenya.
It is located in Nairobi, the capital city of Kenya. State House serves as the headquarters of the Kenyan government and is an important symbol of the country's executive power.
Here are some key points about State House in Kenya:
Location: State House is situated on a large compound along State House Road in Nairobi. It is located in a serene and secure area, surrounded by beautifully landscaped gardens.
Functions: State House serves multiple functions, including being the official residence of the President of Kenya. It is also the venue for official state functions, high-level meetings, diplomatic engagements, and other important events related to the presidency and the government.
Presidential Office: Within State House, there are offices and facilities dedicated to the President's official duties. These include the President's office, meeting rooms, and support staff offices.
Security: State House is heavily guarded by the Presidential Escort Unit (PEU), which is responsible for the security of the President and the premises. The security measures are comprehensive and designed to ensure the safety and protection of the President and the facility.
Historical Significance: State House has historical significance as it has been the residence and workplace of every Kenyan President since the country gained independence in 1963. It has witnessed numerous important events in Kenya's political history.
Public Access: While State House primarily serves as a private and official residence, it occasionally opens its doors to the public for specific events, such as national holidays or state visits. In such cases, guided tours may be organized to allow visitors to explore certain areas of State House.
Symbol of Authority: State House is an iconic symbol of executive power and authority in Kenya. It represents the highest office in the country and is a visible representation of the government's leadership.
It's important to note that State House is distinct from the Parliament Buildings, which houses the legislative arm of the Kenyan government. State House, on the other hand, is specifically associated with the presidency and the executive branch
The Police asserted that Azimio la Umoja was the target of the barricades' construction.
Kenya Kwanza Coalition government led by H.E William Ruto has been given a 14-day deadline by Hon Raila Odinga to address a number of issues, such as the cost of living and punitive taxes.
Kenyans have observed a significant police presence at checkpoints along State House Road.

Days after Azimio la Umoja One Kenya Coalition Party leader Raila Odinga called a mass action, the barriers have left Kenyans wondering why the latest developments have occurred.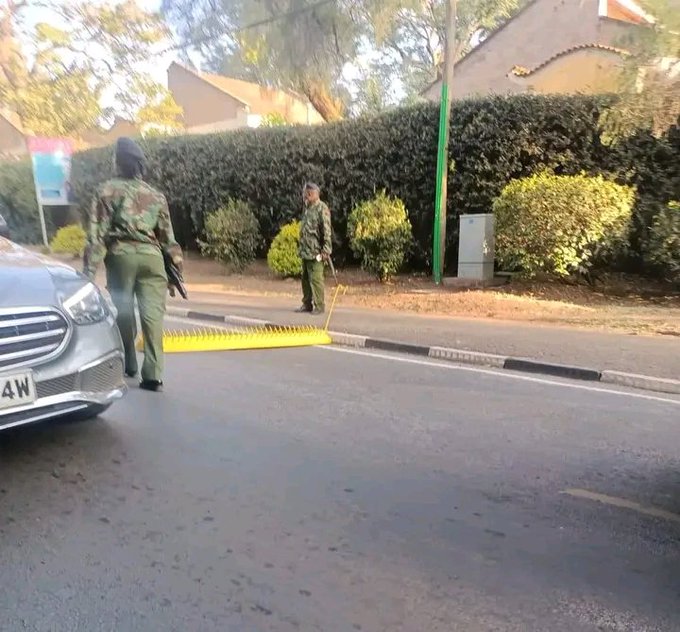 Netizens flooded social media claiming that the police searches showed that the president was prepared to fend off protesters.
Related Post:

Many routes from Valley Road to the hillside home were marked as "partially restricted usage roads" and "restricted usage roads."
Get more of our interesting Stories on our website below: https://www.kenyaupdates.co.ke/